Please note: As of half-hour 251 and one-hour edition 258, only m4a format is available. The m4a format is current and offers a better compression algorithm, whereas mp3 is technically legacy as further development has ceased. (Yes, it will be around for a long time to come!) While there is sufficient server space, mp3 versions of the older shows will still be available for listening and download.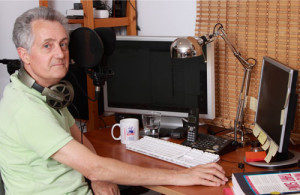 Shows currently produced
A bi-weekly one-hour podcast, with no music restrictions, with researched and informative commentary. This show features many rare and exclusive tracks, some from private recording sessions and public concerts. The researched and informative commentary is a little more in-depth than the half-hour shows. PLEASE NOTE: Until further notice, due to personal commitments, the one hour podcasts will be produced on a monthly basis. (The frequency may be improved from time to time depending on special requirements.)
The one hour podcasts are also broadcast weekly in stereo on Radio Relaxo, Toronto, Canada – www.radiorelaxo.com – on Tuesdays at 19:00 EST, repeated Fridays at 10:00 EST and Saturdays at 19:00 EST.
A weekly half-hour of music composed prior to 1960, being the remit of Angel and 1940s UK Radio which broadcast the shows:
1. Angel Radio, Havant, Hampshire – www.angelradio.co.uk – Airs in mono Fridays 11:35 GMT, and Wednesdays at 22:05 GMT.
– FM 89.3 (between BBC Radios 2 and 3) in Havant and surrounding areas
– DAB (Digital Radio) in Aldershot, Brighton, Birmingham, Bristol, Cambridge, Hampshire, Isle of Wight, London, Norwich, West Sussex and Woking – and more.
2. Angel Radio, Isle of Wight – www.angelradioisleofwight.com  – Airs in mono Saturdays at 14:30 GMT.
– FM 91.5
3. 1940s UK Radio – www.1940sukradio.co.uk – Broadcasts in stereo when station bandwidth allows, otherwise the software converts to mono. New programmes are aired on Saturdays with random shows repeated Sundays through Fridays, 4 times per day – see station for timings.
4. ATOS Radio – www.atos.org – Higher bandwidth versions are aired on Tuesdays, Wednesdays and Thursdays to accommodate different time zones. See the link for full details.
5. Serenade Radio – www.serenade-radio.com – A tip-top Easy Listening station in England, mainly over the Internet but it also has a local DAB broadcast outlet. Starting November 22, 2020, the station airs the half-hour edition in high quality stereo every Saturday at 17:30 GMT/UTC. Please note that Serenade is not broadcasting Hot Pipes through the summer: it returns on October 2, 2021.
---
Notifications
To receive notifications of new one-hour podcasts by email, click on the Please add me to your mailing list for updates under the Mailing List Signup at the top of the left column. You will NOT receive notifications of new half-hour shows as they are released every Saturday at 12:00 Central European Time (CET).
---
Subscribing
There are several ways to subscribe and/or be notified when new shows are released. There are two feeds, one for each show produced: both are m4a 256 kbps, produced with Apple's iTune Plus ripper for maximum quality and lower file size.
1. Select which show and version you wish to subscribe to by choosing one in that category.
2. Under the play-bar, you have the option to Download that particular show. (A left-click will download to the 'generic' download folder in your computer and a right-click gives you the option of deciding the download location.)
3. Under that you will see 'Subscribe'…
Google Podcasts – The link will take you to the Google Podcast listing where you'll be able to subscribe.
Email – The link takes you to a page where you can subscribe to receive an email every time a show is published.
RSS – Produces an RSS XML file

Alternatively, you can manually add the feed address to a podcast downloader/player (such as iTunes, Miro, Juice etc.). It appears that the iTunes subscribe option no longer appears under the playbar: please copy and paste the feed address in the Podcast Subscribe option in the File menu.
The relevant feed addresses are:
For the one-hour podcast: https://www.hotpipes.eu/feed/podcast-m4a/
For the half-hour broadcast edition: https://www.hotpipes.eu/feed/half-hour-m4a/
---
Studio work
The Hot Pipes music library currently (as of May 2021) is almost 80,000 tracks of CD-quality (16-bit, 44.1 kHz) files held on hard disk and organised in iTunes. These are from various digital and analogue sources, requiring varying degrees of processing:
a) All CDs are copied into the database, the metadata (track details) checked and corrected as required. While track names are usually available by lookup in iTunes, they are frequently inaccurate and rarely contain composer information, which must be entered separately, requiring research on the web etc.
b) LPs, reel-to-reel tapes and cassettes (when an LP is not available) must be digitised, de-clicked (sometimes persistent clicks must be removed manually) and de-noised, and then split into tracks. All of the details of those must then be manually added into the iTunes database.
I already had some 200 LPs and an unknown number of cassettes to process when recently a huge donated collection of digital and analogue commercial recordings arrived. These, along with some very rare and unusual recordings in my possession, have helped to keep the material on the programmes fresh and interesting.
Please note that my library of recordings will eventually be donated to 'suitable' entities – currently planned are the American Theatre Organ Society and the Cinema Organ Society – so that the generous donations of recordings by many listeners and countless man-years of work expended on processing and cataloging will not be wasted. Negotiations are currently underway to establish a permanent archive.
---
Website hosting
The website and sound files in mp3 (now legacy) and m4a formats are held on a Virtual Private Server (VPS) for speed of streaming and download delivery. If anyone experiences any difficulty with accessing Hot Pipes, please do contact me immediately, using the contact form on this website or directly by email.